Industry studies show that industrial plants lose between 3-8 % of their production profit due to unplanned upsets or abnormal events. More than 50 % of these incidents happen due to a lack of situational awareness.
(Source: ASM Consortium).
---

What is the definition of an unplanned upset or abnormal situation for a production facility?
Any unplanned and undesired event that prevents completion of a task causing a risk to health, safety, production or environment. The cause may be blockage of a pipe, failure of an instrument, and so on. These kinds of unplanned and undesired events cannot be handled by the control and safety systems alone and requires human intervention by a control room operator to return to a normal state.
Seen from the operator's perspective, the number of information points have increased significantly over the last years, due to more integrated and advanced systems. Simultaneously, the number of operators for each loop has decreased.
Operators have not been given any new tools to understand this information, or to make decisions based on the information provided.
Kairos Control Room Assistant
This is why we have developed Kairos Control room assistant, which is a new solution created to assist operators with situational awareness.
The software runs in real time as an assistant, always on the alert. With live plant data as evidence, the model presents a real time HAZOP to the control room operators for better decision-making, which reduces losses and avoids shutdowns. The result is an increased production output by 5%, with reduced flaring and increased safety.
The vision
Can you imagine a control room without alarms? Kairos is like a digital operator's assistant, automatically dealing with incidents.
The vision for Kairos is to enable the human operator to handle complex situations for more fields or plants without interruption, in a safer and more efficient manner.
The project was started in 2012 and is currently a development project under the name AlarmTracker. Kairos Technology develops the solution in close partnership with The Technical University of Denmark, The Danish Hydrocarbon Research and Technology Center, Total and ConocoPhillips, with support from The Norwegian Research council as a part of the Demo2000 programme.
The first live system is being tested offshore for ConocoPhillips at the Judy Platform and will be followed by a Total pilot test.
How does Kairos work?
The technology embedded in our Kairos products combines deterministic modelling with deviation propagation analysis and artificial intelligence. The model utilizes human experience along with the plant design parameters, and effectively captures and makes explicit and tacit knowledge available.
What it all comes down to is providing the operator with better decision support. This is mainly done by using Multilevel Flow Modeling. MFM is used to diagnose malfunctions and create a counteraction before the situation evolves. Kairos uses MFM to display the root cause and future consequences of the situation, if no action is taken.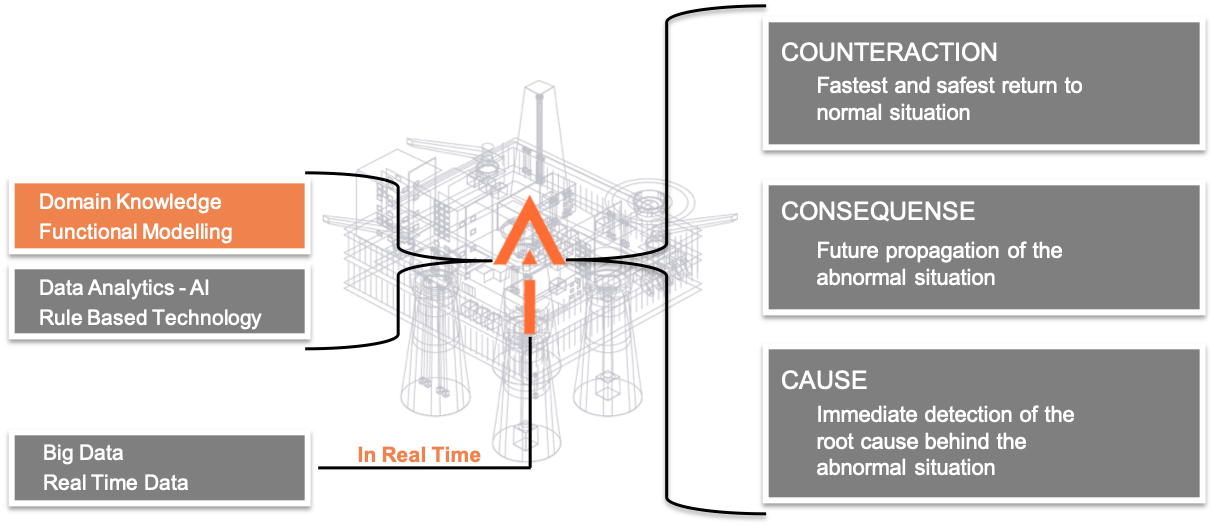 Through state-of-the-art visualisation, modelling and algorithms, Kairos gives the operator superior decision-support for immediate counteractions on abnormal events.
Expected results
The business case for Kairos is to increase production output by 5%, reduce flaring and increase safety.
Kairos enables you to:
Understand all situations and therefore cut time-delay before action (Situational awareness)
Deal with the cause(s) of the abnormal situation, not only the alarms/symptoms (Root Cause)
See developing scenarios from the abnormal situation (Consequences)
Take the recommended action to resume normal situation (Counter Action Planning)
Deal with the upsets up-front
...before they lead to an incident or complete shutdown.
Want to be one of the first to move into the future?
Give us a call or drop a few lines, and we'll be happy to discuss your opportunities.
Talk to an Kairos specialist: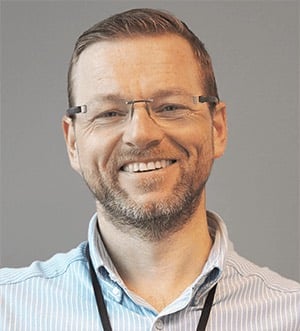 Bjarne André Asheim
Managing director, Kairos Technology
Managing director
Extensive leadership expertise
Product developer
+47 952 91 478 or bjarne-andre.asheim(a)eldor.no
Bjarne André's background:
Bjarne André is the managing director of Kairos Technology AS. He holds 20+ years of experience from the Oil & Gas industry, with the past 15 years in leadership positions in ABB. Bjarne André has worked as a project leader, a leader for ABB's Oil & Gas office in Stavanger, division leader for Process Automation in Qatar, VP for oil, gas, and petrochemicals with responsibility for the Middle East, and as a VP in business development for chemistry, oil and gas activities globally for ABB.
Bjarne André has a degree from a university college as a process automation engineer, with additional leadership education from AFF and ABB.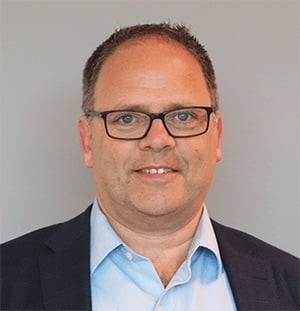 Bernt Eldor
Sales & Marketing Director, Kairos Technology
International sales
International project management
Client liaison
+47 900 87 545 or bernt.eldor(a)eldor.no
Bernt Eldor's background:
Bernt is an entrepreneur who founded Eldor AS in 2006. Innovation and business development are some of his passions. He started programming control and safety systems in 1988 and has been a project manager in several ICSS and telecommunication projects.
Bernt is currently the sales and marketing director for Kairos Technology and chairman of the board in NFEA. Bernt has extensive experience with international project management, specifically within the oil and gas industry. He is an offshore engineer graduate from Heriot Watt University in Edinburgh, Scotland.
Get in touch with our experts: