Digitalisation
New ways we are working to remotely support our customers
The way we are working has changed dramatically because of the COVID-19 situation. Learn how we are taking care of our customers in this difficult time.
---
The outbreak of COVID-19 has changed the way we work, and also promoted further change that will affect how we work in the future. Some companies might be scared that the new working order is decreasing productivity and performance of their employees. However, Repsol Sinopec recently published an article claiming the exact opposite, namely that remote working has increased performance and cooperation across the company.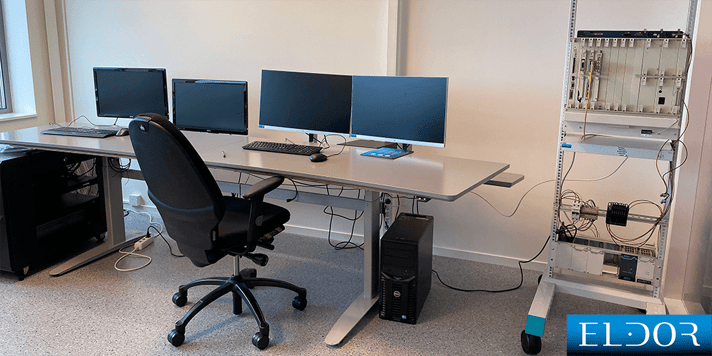 Staging room in Norway
It has also changed the way we work in Eldor. For instance, we had our first ever webinar in April, something that was very beneficial for us, and hopefully also to our customers. We have also been forced into thinking in new directions when it comes to our projects, especially when it comes to travelling and going offshore. We are currently working remotely on several projects and supporting our service level agreement customers. In general, we always try to be organised and ensure good communication with our clients.
Robert has been running remote FATs for our customers. In Eldor we utilise both Microsoft Teams and TeamViewer to provide better insight into current projects we're working on for our customers. This mainly comes useful while showcasing functionality of the software we produce (during so called factory acceptance test). TeamViewer is mainly used to remotely access the reference systems we have in our office (which are fully equipped and configured to act as a replica of offshore systems), while teams is used for day to day communication (for instance to update a customer on the progress or to discuss any issues that might arise throughout the lifetime of a project). This technology made it possible to virtually eliminate the need of having another person sit next to you (which has been the case prior to the current pandemic) as far as factory testing goes, since all parties can simultaneously talk and see each other on screen should they wish to do so, irrespective of numbers expected to be present at a meeting session. We can allow other people to take over control of each other's computers as well- this is especially useful if a customer needs to point out something very specific.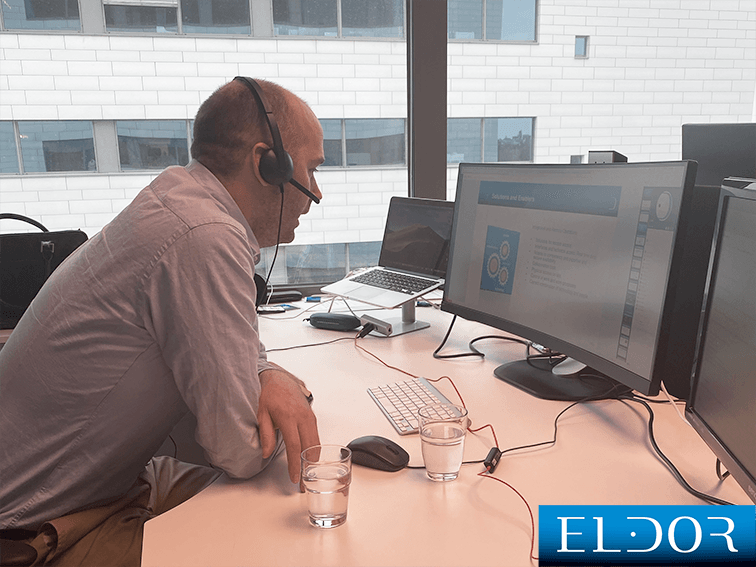 Torbjørn during our webinar on Remote Access Solutions
Ian, our service manager, is supporting a DynAMO installation remotely using the clients remote logon credentials. He is also supporting the Service Desk using collaborative working and attending meetings online using Teams. This is all made possible with a fast and reliable broadband connection, and using the dining room table as the office desk.
Our customer liaison Kit, says that reaching out to clients via LinkedIn or by email and suggesting a chat on Teams has worked well. This is mainly for two reasons. One: the clients contact who is also possibly still working from home is happy to break the normal routine of home working. Two: they are more engaged with the technology and not under so much pressure as when one used to arrange office visits, when your client has had to organise meeting rooms (and/or Visual aids access), plus pressure to attend internal meetings at short notice. So all in all Teams meetings have been a great asset to Eldor's marketing and sales toolkit to engage with our clients and potential new business clients.
In Eldor, we've started having our coffee meetings over Teams instead of in person, and we have tried keeping up the team spirit with Kahoot quizzes every other Friday. We have also created a buddy system, where members of the sales department will contact everyone in the company every week for a short chat, to check in and strengthen morale during this difficult time.