Support
Are you aware that Eldor UK has a Simulation room?
Do you know the benefits for you as a customer? It means that we can replicate the same engineering control environment that you have upstream/downstream.
---
Well in fact we do have one! This was one of the aims of developing the Eldor UK business plan back in 2019. Based on our Sales Support Manager's experience of having a similar set up in a previous service company.
What are the benefits for you?
It means that Eldor UK can replicate the same engineering control environment that our clients have upstream or downstream.

Eldor UK engineers are able to validate modifications life after development on-site, which in turn enables us to do FAT's with our clients on-site or via Teams for modifications with a live system.

The other great benefit is that if required an engineer can access the relevant Simulator system from site to test or validate a part of the solution.

When they receive a support issue, on-call engineers an replicate the reported issue seen on a client's site on the As-Built simulator, to help resolve the issue.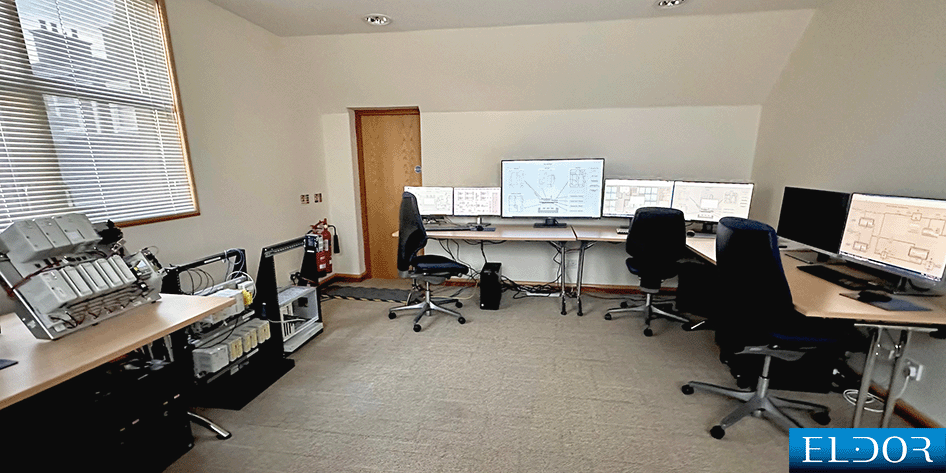 To that end, when Eldor UK moved into the present offices at the start of 2019, a purpose designed Simulator room was allocated and developed. This includes electrostatic floor earthing and other safety features, along with a full HVAC system to ensure simulators were in a temperature-controlled environment at all times.
The other benefits are that the Eldor UK Training Department can access the clients As-Built simulators and reference systems from the training room. This enables As-Built bespoke training courses and FAT's to be delivered to clients without being disturbed by the noisy servers.
At present, the simulator room houses not only customer reference ICS systems that have latest version of site backups, but also our owned server infrastructure for quick validation of new requirements, potential project modifications, and in-house learning.
The infrastructure is based on state-of-the-art virtualisation technology to ensure increased productivity, agility, availability, and IT efficiency. The Simulation Server Room has restricted, Secure access along with strict cybersecurity rules. All servers have encrypted data storage and Multi-Layer Redundancy for backups.