Eldor
Eldor first quarter 2019
Eldor is increasing capacity and initiative in the UK. New employees added in key positions both in Stavanger, Oslo, and Aberdeen.
---
News from Aberdeen
During the past few months, Eldor has brought in new employees, and we are waiting for even more! We have been growing our business in Aberdeen during the past year, and as such have appointed a new Operations Manager for Eldor UK, Carl Townsend, who will be based in Aberdeen to help out our current customers, as well as new ones. Also, Ian Bowden has been appointed as our UK Service Manager. Purna Kiran Mopidevi and Suresh Vuyyuru, both senior engineers, have also joined our team in Aberdeen. Additionally, we have invested in ABB test equipment for applications and software, and we have set up a simulator to do testing in our Aberdeen office.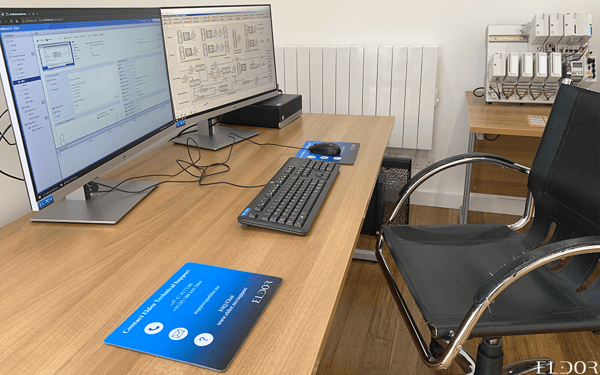 ABB test equipment in our Aberdeen office
New employees in Norway
We have been increasing our capacity in Norway and have added Grethe Tausvik to our Digitalisation team. She will mainly be working on Human Factors and Operation Centres. Venkatesh Krishnan has joined our alarm management team in Norway, and will be working on the Goliat project and with other alarm improvement projects. Additionally, Krishna Mangalampalli has joined our expert team of senior engineers in Norway. He will be working mainly with Neptune Energy. Our telecom team has also added a new person, Prafull Kothiyal, with the role as senior telecom engineer.
News from Norway
A part of our commitment to grow has been our digital marketing efforts during the past year. We have added some nice, new features, including knowledge articles, white papers, and of course, the Eldor news section that allows us to share important news about our business. This has led to a substantial growth of the Eldor online community, with more than 10.000 sessions since the launch of our new webpage last May, and we are looking forward to going even further in 2019.
Another important event was when our product AlarmTracker was relaunched as Kairos - Control Room Assistant.
We will be looking for more talent going forward as we are expecting the company to grow even more, so if our business sounds interesting to you, don't hesitate to leave your application on the careers page.