Our decision support tool for control room operators, Kairos, is now undergoing pilot testing with live data from two production platforms offshore UK and DK. The pilot testing has been ongoing since mid February.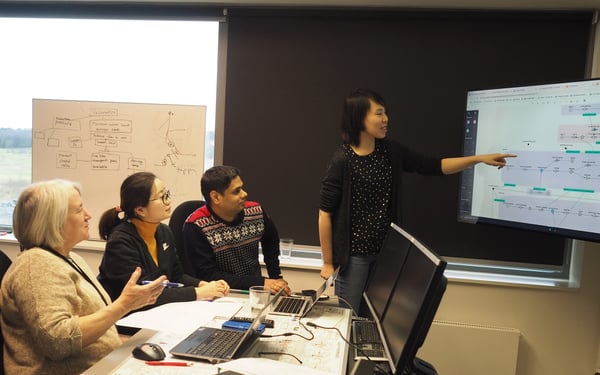 From the left: Sarah Berge, Lu Li, Sharat Kumar Pathi and Xinxin Zhang.
The learning curve has been steep, but initial results are very good. There is full consistency between the functional model and the control system indications. Our artificial intelligence reasoning engine and functional model provides accurate results when exposed to live data from the plant.
The data flow from legacy control systems using Cogent DataHub has been proven effective and is giving us good control of the security and loading on the control system. This solution will be our preferred solution for future projects.
Our ongoing work and next step is to improve the user interface. Workshops with control room operators are taking place to ensure user involvement. It is of the utmost importance that we are able to provide an effective and intuitive user interface.
Watch this video from DTU about how Kairos works.
With the new user interface in place, the Kairos Control Room Assistant will be ready for commercial use by Q3 2019. We are actively seeking new pilots, so please do not hesitate to contact us if you want to help your control room operators with taking a step into the future.
Currently we support identification of incidents with real-time root cause analysis and prediction of consequence propagation. Mitigation planning in the form of suggested counteraction plans will be included in later versions.